How to become an Enetica Reseller?


Gettting Started...

To join the Enetica Reseller Program, all you need is to provide your basic business details, and pay the initial $395 deposit to open your account. The payment will be used for the purchase of domain names or hosting plans.

Resellers will be able to order the reseller hosting plans from the RWI. You will then have access to your own WHM reseller login. This will allow full control of your account as well as all your end user accounts. You will be able to create new end user accounts through the cPanel interface, or through the Enetica API (ver 1.5).

Your reseller account will be debited the value of the reseller pack you choose and will automatically be debited for future renewals, either monthly or annually, until you cancel the account. You can cancel reseller hosting accounts anytime, but there is no refund for unused time periods.

>> I want to join the Enetica Reseller Program now...

What do I get?

Enetica's services are unmatched by any .au registrar. We are so confident about the strength and sophistication of our systems that we have provided access in advance.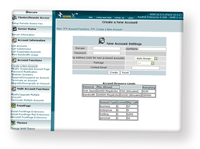 1. Your own Web Host Manager (WHM)
Web Host Manager is a server administration interface which allows you to control and monitor your server from an easy to use web interface.

In practice, you get to:
create customised accounts for your clients,
edit account configuration,
monitor their usage and a lot more.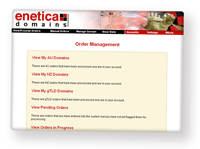 2. Our exclusive RWI interface
The range of functionality offered in the web interface is impressive. Please take a few moments to see how easy it is to use. The client code is fully customisable, and is available for download immediately.


Start doing business now...
We have created 3 default end user plans which you can provide to your clients. Except for the Reseller Hosting Standard 1 & 2 and Reseller Hosting Premium 1, you can also create your own custom end user plans with whatever limits you choose. As well as the disk and traffic limit, you will also be able to limit the number of mySQL databases, mailboxes and parked domains for each end user account.

The 3 default end user plans :



End User
Plan 1

End User
Plan 2

End User
Plan 3

Disk Space Allocated


100 MB


250 MB


1,000 MB

Traffic/Bandwidth (per mth)

2 Gig

10 Gig

50 Gig

Email Accounts

5

50

250

MySQL Databases

1

5

25
Enetica Wholesale
Partner Program
Why choose Enetica?
•

24 Hour Monitoring of all servers

•

Online movie tutorials

•

Unlimited Support
Online knowledge base, video tutorial, phone and email support

•

100% Australian
All our staff and hardware are located in Australia

•

Flat rate pricing, No Hidden Fees
Instant Domain Approvals
Competitive .au, .nz
and GTL Domains
Maximum Redundancy:
- duplicate disks
- duplicate servers
- duplicate links
Daily Secure Backups
of all our servers
100% Australian - All our staff and all our hardware are located in Australia.