Enetica Reseller Program Overview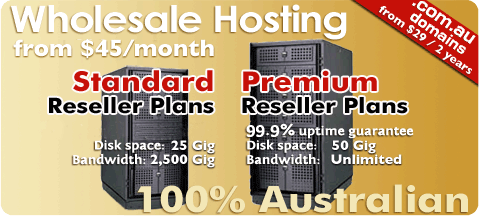 Enetica's Wholesale Partner Program offers the same cutting edge systems, excellent service, huge extended product range and the fastest domain approvals in Australia regardless of your size. Enetica has also integrated a complete hosting solution into our existing domain reseller system. Resellers can select a reseller hosting plan which will then allow them to on sell 50 to 1000 full hosting plans while keeping 90% of the profits.

All our servers are based in our own racks located in Sydney and are fully managed by our own staff. This gives us complete control over all aspects of the system and the ability to respond to issues with minimal delay. We have also been able to leverage on our existing infrastructure which has built into it numerous levels of redundancy and security.
The hosting solution is based on the world's most popular Linux hosting administration system, cPanel. We have also installed the very popular Fantastico De Luxe script autoinstaller providing easy access to more than 40 of the world's most popular open source script packages. (view list)

As all services are pre-paid, Enetica requires your account to be in credit for you to place orders. Enetica does not insist on a minimum balance.

Benefits to Wholesale Partners

Instant Approvals - All applications processed in real time as Enetica receives them
24 Hour Processing - 7 days a week
Turnaround time counted in minutes
Advanced web interface for easy management of all your domains
Complete Client Code for you to integrate into your systems
Access to Enetica's unlimited, high speed, live domain search tool
Access to Enetica's URL and Email forwarding features
Access to Enetica's exclusive Domain Sentry Service
Very competitive pricing


Enetica Wholesale
Partner Program
Why choose Enetica?
•

24 Hour Monitoring of all servers

•

Online movie tutorials

•

Unlimited Support
Online knowledge base, video tutorial, phone and email support

•

100% Australian
All our staff and hardware are located in Australia

•

Flat rate pricing, No Hidden Fees
Instant Domain Approvals
Competitive .au, .nz
and GTL Domains
Maximum Redundancy:
- duplicate disks
- duplicate servers
- duplicate links
Daily Secure Backups
of all our servers
100% Australian - All our staff and all our hardware are located in Australia.