Enetica DIY Site Builder
What's the Enetica DIY Site Builder?


The Enetica Site Builder is a great tool for anyone who wishes to build a website within minutes, without any existing html knowledge. It consists of a 3-step wizard and a site builder admin panel.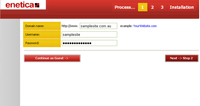 3 simple steps to build a website:
1. Go to the site builder 3-step wizard and login with your domain name , username and password which you have received when buying your hosting plan.

2. Choose a website template.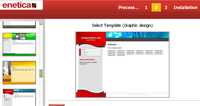 3. Enter website name, description, keywords and contact details of your organisation. When this is done, click on 'Go! Install my website' and your website will be installed on your hosting space.
The Site Builder Admin Panel is a very simple interface that will let you:
• Add, move and remove webpages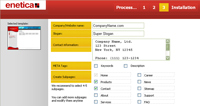 • Add and update content to your website

• Add images

• Add add-on modules like Poll, News or Photo Gallery

• Change or modify template (advanced)


You can test the 3-step site wizard of the SiteBuilder here. Just click on "continue as a guest" and follow the instructions...


No HTML knowledge is required ...



Site Builder features




Once your website is created via the Site Builder wizard, you will be able to login into your SiteBuilder admin panel and will be able to: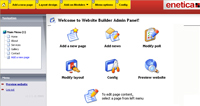 Add new pages to your website,



Add/update your content,



Modify the design of your template,

Modify your website configuration,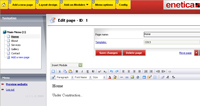 Add and configure :
• News System,
• Vote Poll,
• Image Gallery
• extra menus...




Try it!


Click "continue as guest" to try the demo ...
Warning! If you login with your Enetica account details, a new website will be installed on your webspace and may overwrite existing files in your 'www' folder. Please make sure to backup any existing website before you run the website builder on your account.